As I approach 1.3 million friends on myspace, I thought of a brilliant plan. Can you imagine if every single person each gave me a dollar? I'd be rich, right?


Well sorta... First of all, I could never see myself asking ya'll for a dollar. I mean come on... that would be extremely tacky!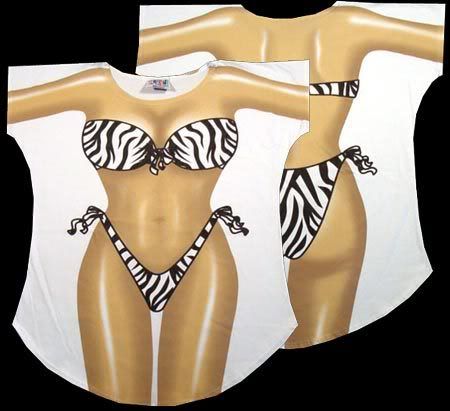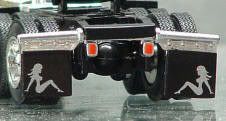 However, I came up with an idea and a goal. I see people on these social networking websites building up a lot of fame and notoriety. How many of them are doing things to make a difference in this world? There are a few here and there but the way I see it, there aren't enough. And in this ME ME ME (and what about ME?) driven society, I thought that something must be done. So I set a goal for myself and do you know what I'm going to do? I am going to be the first person to use my position on myspace and these websites to raise a million dollars for a charity that I care about. I am going to raise $1 million to fight pancreatic cancer! And the plan was born...
I lost my dad to pancreatic cancer when I was only 19, and my whole world crumbled. I watched him suffer from this horrible disease and knew that I didn't want anyone else to go through what he went through.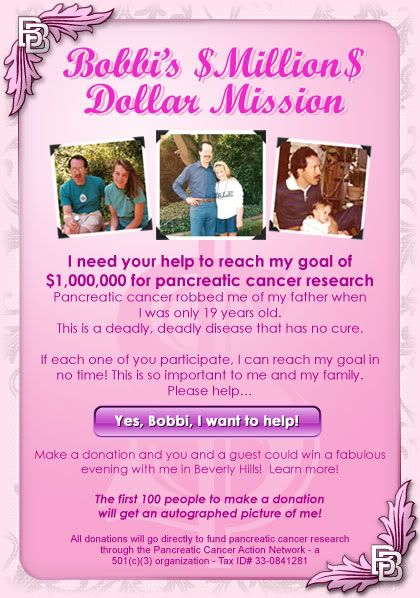 Pancreatic cancer has the worst survival rate and is the most under funded of all major cancers. 75% of pancreatic cancer patients will die within 12 months and less than 5% survive for five years!!! The only way to change the horrible statistics is to raise as much money as possible for research! We've seen what research efforts have done for other diseases. Let's raise money to fund research NOW for pancreatic cancer and not let another person lose someone they love.

The people at Pancreatic Cancer Action Network were kind enough to help me come up with a way to do this. Now I just need your help. I would greatly appreciate it if you would help me out with this plan.
Please give whatever you are able. This is a very important cause to me. Just look at it this way... give up a couple of Starbucks, or give up that pizza & beer for one Saturday night, or one manicure & pedicure, or dinner & a movie. I think you get the picture. Give what you can but give from your heart!

Together, we can really make a difference!


Visit www.pancan.org/bobbi and check it out. All donations are tax deductible and if you donate, you even have a chance to win a date with ME. And... I am going to give an autographed photo to the first 100 people that donate.


XoXoX,
Bobbi Billard

P.S. If you cannot afford to give anything (not even a dollar?), another way you can contribute is by helping me spread the word. Please put a banner on your page to help me promote this cause. You can find the code in my "Heroes" section of my myspace.